Conversion Narrative
Effects of my Conversion Experience and Evangelical Upbringing upon Prison Chaplaincy
  Introduction
Gordon T. Smith, in his book, Beginning Well,[1] challenges believers to construct a conversion narrative of their coming to the Christian faith. He suggests that a sustained written testimony helps to place one's conversion experience into a specific context.
I have constructed such a narrative to better understand why I have emphasized certain aspects of the gospel within a prison context. Religious conversions are endemic within prisons. They result from the fact that inmates are in crisis and in need of help. Conversion experiences become a way for them to cope with the many new realities that they face.
My experience with dozens of conversions in prison forced me to think about my own religious transformation. What was it about that experience that was so formative?  Why have I been empathetic to inmate conversion experiences while remaining cognizant of the many pitfalls that inmates fall into as they move from a good beginning to an uncertain future?[2]  Why do so many conversions in prison go wrong? What is the role of an authentic religious experience in becoming integrated as a faithful believer of Jesus Christ?
My conversion experiences are divided into ten-year segments. They begin at the age of six when I went to my first Conrad Brunk II revival meeting. At the age of sixteen, I received catechism with a group of my peers and was baptized into the Bergthaler Mennonite Church. At the age of twenty-six, I was called to pastoral ministry and attended Associated Mennonite Biblical Seminaries in Elkhart, Indiana. At the age of thirty-six, I was called to prison ministry in Quebec. I became a prison chaplain after completing a Doctor of Philosophy Degree from McGill University in 1991. Each ten-year period is described to give the reader an idea of how my conversion experiences shaped my life and ministry career.
The latter half of the paper analyses the effects of my evangelical upbringing and conversion experience upon my chaplaincy journey.  The purpose of the paper is to set these two aspects of faith into a larger context called sacramentalism.
Brunk Revival Meetings at the Age of Six
My conversion experience began with the Brunk revival meetings that took place in southern Manitoba during the 1950s and 60s.  I was only six years old in 1960 when my parents took me to a weeklong evangelical service under a big tent near Plum Coulee, Manitoba. I was mesmerized by the experience. The saw dust trail ran down the centre aisle from the back to the front to cover the dust and mud that
Figure 1: 1954 Picture of Brunk Revival Tent in Winkler, Manitoba[3]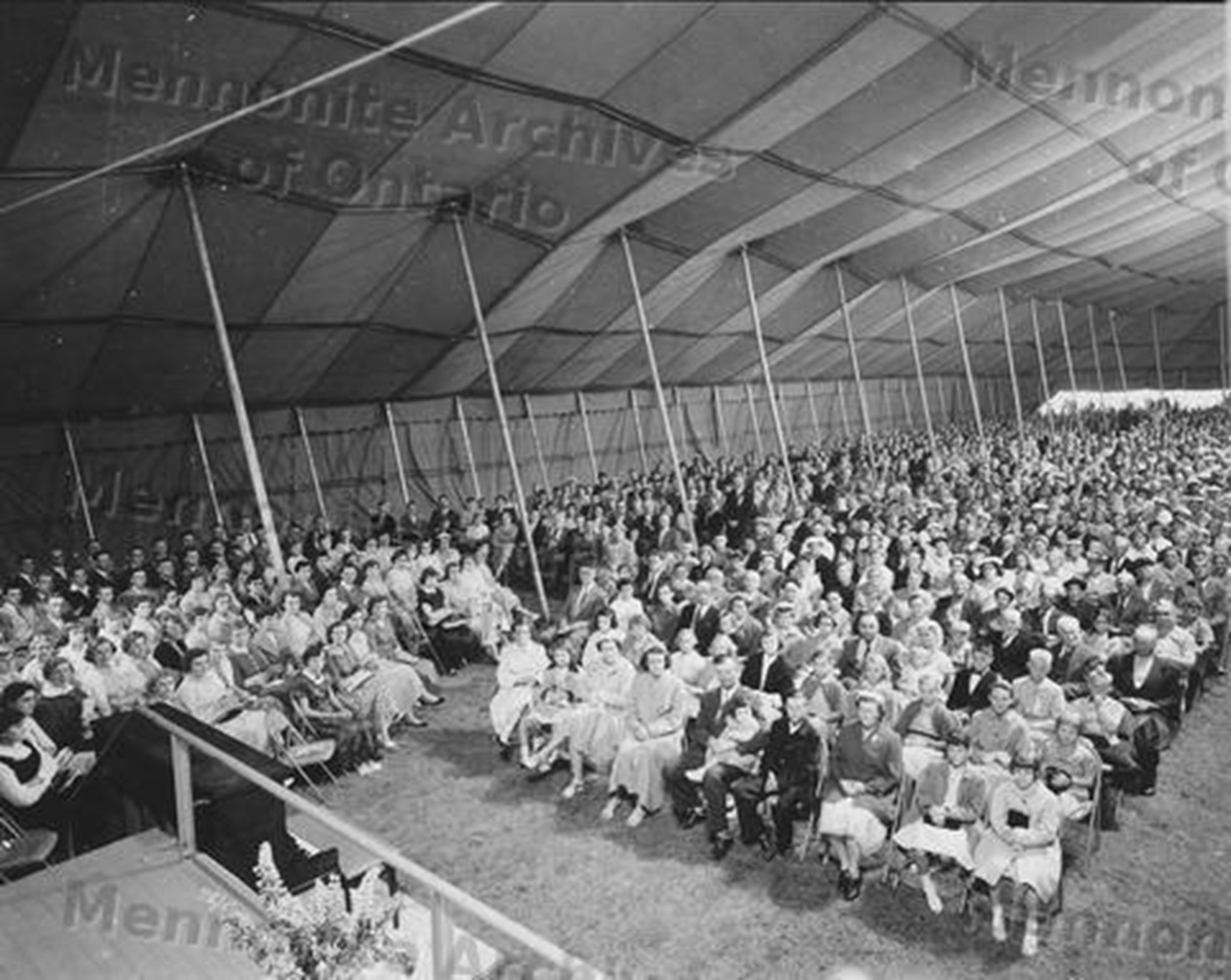 represented the floor of the pasture on which the tent had been pitched. 2" x 12" boards covered with brown tablecloth paper stapled to the bottom were placed on concrete blocks used to construct basement foundations. Tall wooden masts up to thirty feet held up the tent at twenty feet intervals. Many conversions occurred one night when a rainstorm pelted the tent and made the tall posts sway dangerously inside.
The service consisted of a lot of singing and preaching. After forty-five minutes of singing led by a song leader, the worship leader introduced the minister who was from either Virginia or Pennsylvania. They were powerful preachers. Unfortunately, I do not remember a word they said. After forty-five minutes, the preacher sat down, and I breathed a sigh of relief. It would soon be over. After singing for another twenty minutes, the worship leader stood up for what I assumed was a closing prayer.
The worship leader began by thanking the preacher. He commented on what a powerful message he had delivered. He thanked the audience for the wonderful singing. He then said, "I would now like to introduce the main speaker." That is the last sentence I remember for the rest of the week. The service each night lasted in an excess of three hours.
I do not remember if there was an altar call at the end of each service. Revivalism in the Mennonite tradition consisted of less dramatic ways of announcing that a person had become a Christian. I know that I became a believer those evenings along with many others. I learned the value of Romans 10:10, which says that if I believed in my heart and confessed with my lips that Jesus Christ is Lord and that God raised him from the dead, I would be saved. Those evangelical services represented a turning point for many Mennonites in southern Manitoba. In danger of becoming a cultural entity, the German-Russian Mennonite people experienced a revival within their churches.
Being Baptized at the Age of Sixteen
Receiving catechism and being baptized into the Bergthaler Mennonite Church of Altona represented a seamless continuity between my conversion experience and involvement in the church. I embraced Christianity and church for myself. It seemed natural for me to attend a Mennonite private school and become chairperson of the student Faith and Life Committee in grade ten. It seemed natural for me to be baptized upon my confession of faith and attend a Mennonite Bible College after high school. It was natural for me to immerse myself in Bible and Theology for the next three years of my young adult life.
Figure 2: Altona Ministerial Leadership at the time of my Baptism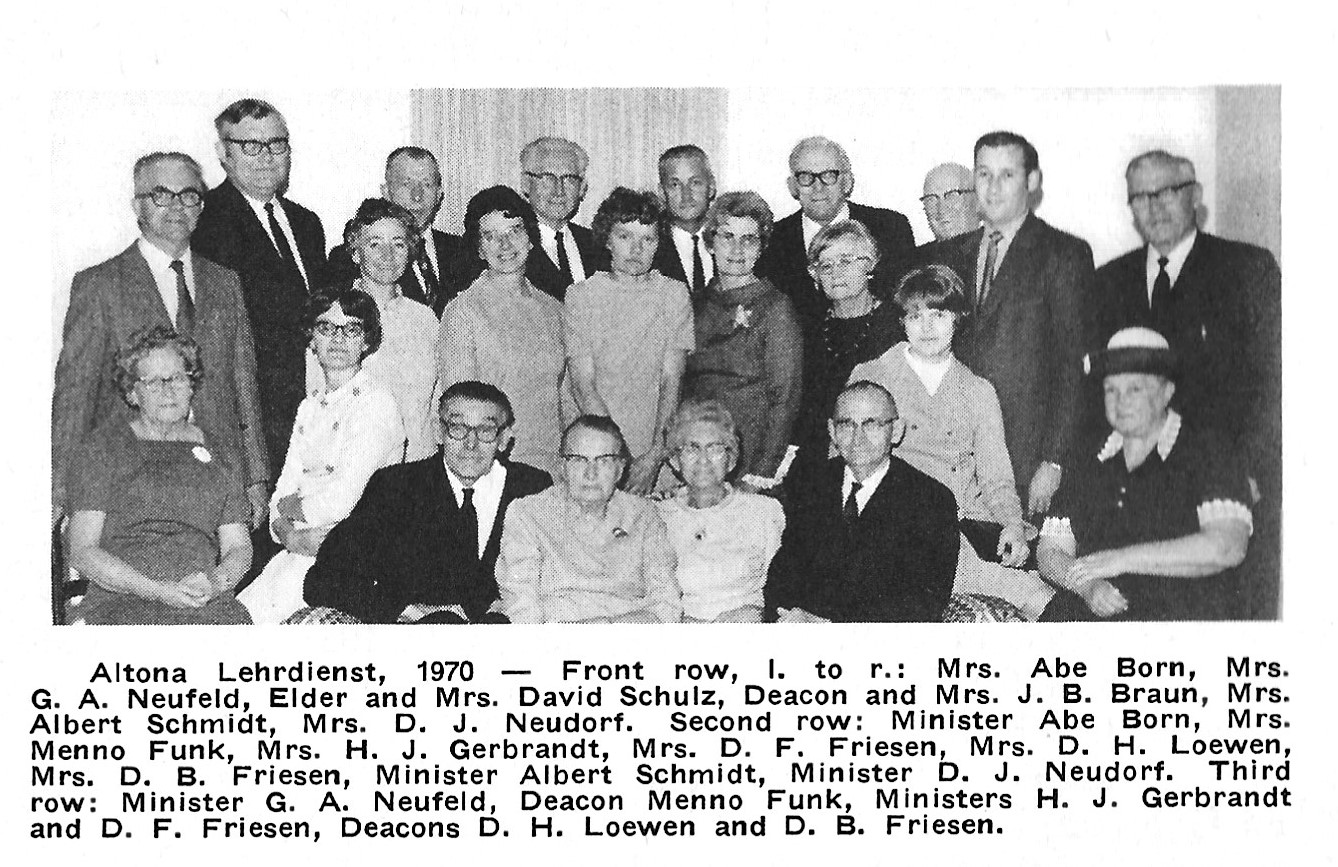 Enrolling in Seminary at the Age of Twenty-Six
That faith journey continued ten years later when I enrolled in our Mennonite Seminary south of the border, in Elkhart, Indiana. After two years of study to obtain a Master of Divinity degree, I became a youth pastor in Calgary, Alberta. I embraced the wonderful aspects of ministering to youth, preaching, worshipping, and pastoral care. Not satisfied with these results, I enrolled in graduate studies at McGill University. While conversion experiences, evangelicalism, and ministry were seen as keys to life, higher education was also emphasized in my tradition. Many of my friends went on to graduate studies and became professors at various seminaries and universities.
Called to Prison Chaplaincy at the Age of Thirty-Six
Being called to prison ministry at the age of thirty-six is a little late for a specialized ministerial call. Up to that point, I had assumed I would transition from being a pastor to becoming a university professor. I had assumed that academia was part of my future. During an interview for a university position halfway through my graduate program, I found out that I did not like teaching. I considered the content of teaching information that was simply regurgitated by students. Although I had spent eight years obtaining my Ph.D., I regretted leaving my ministry call behind.
My involvement as a volunteer with prison ministry beckoned. I was invited to become a prison chaplain. I learned French and fell in love with the ministry. As I have said numerous times, I learned more about ecumenism and inter-faith dialogue in prison during the next ten years than I had at the university the last decade. Academia paled before the nitty gritty reality of prison life. I apparently needed something challenging to focus my life and ministry. I needed unique experiences to force me to think about what I really believed.
Conversion, Evangelism, and the Sacraments
Gordon T. Smith has written another book entitled Evangelical, Sacramental, and Pentecostal.[4] He considers how these three aspects of faith and church fit together. I was drawn to the book because it reflected my own experience. I interviewed many offenders who had conversion experiences because of their incarceration. I worked for ten years with Pentecostal volunteers who came to prison to help me with worship services. I established a Lutheran order of service to provide structure to the inmates' chaotic experiences of faith. I incorporated all three elements of faith and practice to ground faith in a solid worshipful and discipleship experience. The rest of the article shows how conversion and evangelism are related to two sacraments of the Christian church, baptism and communion. It considers how lectionaries and liturgies are attached to various denominational Catechisms. A sacramental view of ministry is introduced that goes beyond specific ecclesiological considerations.
Application of my Conversion Experience to Prison Ministry
The time I spent in Quebec with Pentecostal volunteers providing worship services in prison represented the most integrated services that I had in thirty years of prison ministry. We had simultaneous translations of the sermons into French and Spanish. I listened to powerful Bible based sermons and testimonies from the volunteers. Black, white, and Hispanic inmates intermingled freely with each other and volunteers. Evangelicalism combined with the witness of Pentecostal volunteers provided heart-felt meaningful worship services during these years.
I continued this evangelistic type of service intermingled with Pentecostal styles of worship for the next ten years. Each month, I would invite the Pentecostal volunteers to conduct a worship service that was complementary to what I offered through a more structured approach. Conversion testimonies by volunteers, a powerful sermon, wonderful singing, a laying on of hands at the end of the service, as well as a form of an altar call represented the format of the service. I felt comfortable with these aspects of ministry. I and the Pentecostal volunteers found common cause in our ministry.
Caveat Number One: Baptisms within Prison
I cite the above example to present a caveat to the above scenario. In the early 1980s, a Pentecostal chaplain at one of the Quebec prisons brought a bathtub into the prison and baptized former Catholics upon their confession of faith. He provided abjurement forms so that these inmates could renounce their Catholic faith and pledge adherence to the Protestant faith. These services were conducted in French.
These actions took place ten years prior to my involvement at the prison. They caused no small amount of consternation on the part of the Catholic chaplain and the regional chaplain, who was an "old style Catholic."  I was asked to step into this situation to "solve the problem."
I decided that conducting worship services in English was an easy way to avoid the thornier problem of what to do with the rebaptized Catholics. These French inmates faithfully attended my services while being unable to understand what was going on. While the conversion experiences had been real, the aftereffects were anything but easy.
This experience made me realize that evangelicalism and Pentecostalism can get complicated when applied to prison and the initiation rites of the Christian Church. While the inmates had embraced the former, the actions of the Pentecostal chaplain made it difficult to know how to proceed. I together with several other chaplains have discouraged baptisms within prison because of their divisive nature. I have suggested that inmates wait until they are released to get baptized. My belief in the visible church means that I want former inmates to attend a specific church before participating in an initiation rite of the church.
Communion within Prison
My experience with communion in prison has been quite different. Even though my church practiced communion infrequently and within a closed context, I felt called within the first year of ministry to offer communion to inmates. My encounter with devout inmates and practicing offenders made me realise that the Christian faith and the Christian church were alive and well within prison. Serving communion represented a natural sign and symbol of communicating that reality.
I remember the first time that I conducted a communion service in prison.[5] In spite of the fact that believers of a variety of faiths were worshipping together, inmates instinctively knew what to do when it came time for communion. As I was blessing the elements, the Christian believers stepped forward in a semi-circle around the altar. The inmates who were Sikh, Buddhist, Muslim, and Jewish stepped back to show respect.  They knew what it was like to participate fully within their own faith traditions. At the same time, they felt welcome in the service. We could pray and worship together while knowing full well that this was unique situation in which we could pay reverence and respect to the divine.
Inmates and volunteers have reacted in different ways to the communion services that I conduct. As I have mentioned numerous times, the only offenders who refuse communion are ones who know something about its meaning. The same Pentecostal volunteers who had participated in the baptisms of inmates in prison chastised me for offering communion to the fellowship of believers gathered there.
There was a time of about six months when I did not offer communion. Inmates were not cognizant enough nor practicing their faith. I decided to suspend the sacrament until there was some relationship between the objective action of God and the subjective reception of the Eucharist. I have been recently chastised for this momentary suspension of communion. I was told that communion is primarily an action of God that should be offered. I begged to differ. The Mafia members who were muscling their way into the worship services were unrepentant in their criminal activities. While willing to publicly confess their sins, they were unwilling to go to private confession.[6] The latter action would have meant that they were sorry for what they had done.  I did not find it appropriate to give communion to them.
Sacramental Acts of Worship
The varied practice of offering two sacraments of the Christian Church within a prison setting has made me rethink the meaning of evangelicalism and Pentecostalism. I continue to hold on to Romans 10:10, which says that anyone who confesses Jesus as Lord and believes in the resurrection will be saved. I continue to meet many saved inmates who do not participate in prison chapel services. My role is to help them nurture their faith while giving space to the ways in which they practice.
My experience of communing with fellow believers outside a normal worship setting has convinced me that there is a sacramental aspect to prison chaplaincy that goes beyond the physical rites. Being created in the image of God means that we can commune with each other on a fundamental level of faith and belief. There is something spiritual in all of us that grounds us.[7]
This spiritual grounding places our participation with Being itself into a larger context in which the divine is working through us and others in many different contexts.[8] At the same time, I am called as a Protestant chaplain to ground these deeply spiritual experiences into a church setting. While I can relate to people of all faiths, walk with them and nurture their faith, I am also called to help Christian believers understand how this is enacted within a Protestant context.
Working for ten years with Pentecostal volunteers validated my evangelical experiences within a prison context. There nevertheless came a point when I no longer considered altar calls and a laying on of hands appropriate.  Inmates became so caught up in the emotional side of things that they did not know how proceed once they had been "saved."  I as a chaplain could not follow up with all of the faith transformations that had occurred at the Sunday evening service.  Justification had to be linked to sanctification in order for faith and practice to become one.
I introduced a Lutheran liturgical order of service into the prison to provide a better grounding to faith. Public confession as a prelude to worship, Scripture readings from a three-year lectionary, passing of the peace, prayers of response, and communion represented a wonderful way of channeling inmate conversion experiences and evangelical affirmations into a well-rounded worship service. Inmates participated in these services through singing, praying, Scripture reading, and receiving communion. Songs led by an inmate band represented a wonderful complement to the spoken Word. I embraced this style of worship during the next twenty years of my ministry. Offenders grounded their faith in these expressions of worship.
Caveat Number Two: Theology and Sacramental Worship
I discovered at the end of this time that a caveat regarding the efficacy of Lutheran liturgy within prison was as necessary as the caveat regarding my involvement with Pentecostal volunteers. Pentecostal enthusiasm and evangelical conversions in prisons were circumscribed by the fact that emotional highs and the sacramental rite of baptism could play havoc with inmates' newfound faith (and chaplains' commitment to ecumenism).
A similar effect occurred regarding the Lutheran liturgy. While the liturgy grounded inmates in a solid understanding of Christian worship and faith, its use in prison did not mean that offenders would become Lutherans when they were released. I found this out the hard way when I thought that my use of the liturgy in prison meant that I could become a Lutheran pastor. Two months into my studies at a Lutheran seminary, I discovered that Lutheran theology, especially as it pertains to the goodness of creation and participation in Being, was a ways away from what I believed.[9]  I had adopted the liturgy for pragmatic reasons. While the liturgy grounded inmates' evangelical faith, it did not necessarily reflect the theologies espoused by the denominations -- Catholic, Anglican, Lutheran – that used these liturgies.
This realisation during the latter part of my prison ministry has been as hard to swallow as the fact that conversion experiences and Pentecostal styles of worship did not translate easily into ecclesiological expressions of faith. Baptisms in prisons represented a stumbling block regarding church adherence in the same way that the Lutheran liturgy did. Liturgical forms of worship did not mean that believers agreed with the Catholic, Anglican, and Lutheran Catechisms that were attached to these forms of worship. Catechetical instruction was important insofar as individual inmates wanted to become part of a particular church. The same applied to the initiation rite of baptism. Roman Catholic believers could enroll in the Roman Catholic Initiation of Adults to see whether they agreed with the Catholic Catechism and could be confirmed or baptized.
Lessons Learned
The first lesson I learned from these two experiences is that prison chaplaincy is much more complicated than I first thought. Mennonite experiences of conversion and evangelism, Pentecostal testimonies and altar calls, Lutheran lectionaries and liturgies, along with Roman Catholic Initiation of Adults all have their place within the proscribed atmosphere that is called prison life. These expressions of faith can be brought to bear on the prison experience insofar as the adherent chaplain recognises that these faith expressions may or may not become part of the inmate's life upon release.  The physical fences that keep offenders in prison also apply to the spiritual fences of faith that inmates inculcate for themselves while in prison.  The chaplain's role is to nurture this faith through a variety of expressions while being respectful of all the visible paths of faith available.
The second lesson I learned was that my identity as a Mennonite pastor has been severely tested as a result of my ecumenical and inter-faith experiences as a chaplain. I cannot really say that I act as an ordained Mennonite pastor simply because the word "Mennonite" has such little meaning within a prison setting.  I identify with a pan evangelicalism that believes in conversion and change and with a liturgical tradition that is grounded in the mainline churches' expression of worship. I also believe in a universal spirituality that participates in Being at a variety of levels. This universal spirituality is necessary to work effectively with believers of all faiths.  Respect is necessary in three areas: validation of an inmate's conversion experience, grounding in the historic Christian church's expressions of faith and practice, and empathetic accommodation of all inmates whose faith is different, even radically different, from one's own.
The end
[1] Gordon T. Smith, Beginning Well (Downers Grove: Intervarsity Press, 2001), p. 42.
[2] Seen Hank Dixon's autobiography, A Lifer's Journey (Winnipeg: Prairie Heart Press, 2021), pp. 9-74, for a description of his conversion experience.
[3] Audience seated at Brunk Revival Campaign in Winkler, Manitoba - Mennonite Archival Information Database (mhsc.ca)
[4] See Gordon T. Smith, Evangelical, Sacramental, and Pentecostal (Downer's Grove, Intervarsity Press, 2017).
[5] Donald Stoesz, Glimpses of Grace, p.
[6] Ibid., p. 32.
[7] See Winnifred Sullivan, A Ministry of Presence (Chicago: University of Chicago Press, 2014), pp. 173-191.
[8] See Donald Stoesz, Becoming Whole: An Ethic of Desire, Donald Stoesz, Protestant prison chaplain and published author, pp. 57-69.
[9] Ibid.