Glimpses of Grace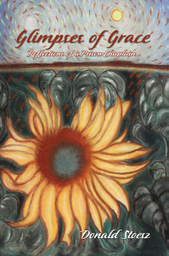 Glimpses of Grace: Reflections of a Prison Chaplain. Victoria: Friesen Press, 2010.
Books are available from Ambrose University bookstore in Calgary, Alberta,
Friesen Press Bookstore or Amazon.                              
 "Glimpses of Grace" relates the joys and challenges of a prison chaplain through a series of one-page vignettes. The open-ended stories are written with a pastor's heart that seeks to minister to the needs and hopes of offenders who have committed serious crimes. The book takes the reader from opportunities of pastoral care to issues of relationships, authority, and restorative justice. The author explores the challenges of ecumenism and inter-faith dialogue while remaining true to his Christian faith. He looks at ministry from the perspective of volunteers and writes about how staff can be an ally in corrections. He regards offenders as subjects who define the nature of the pastoral relationship.
                                Review #1:
Bridging the Real-World, Gritty Experience of Prison Ministry with Thoughtful Theology and Depth!  by John Michalak, Statesville, South Carolina, October 15, 2011
I just finished your book, Glimpses of Grace (thanks for putting it on Kindle!), and truly enjoyed it. I picked it out for the reading and research I'm doing in the Clinical Pastoral Education unit I'm currently taking. What I most loved about it is that you're able to bridge the real-world, gritty experience of prison ministry with thoughtful theology and depth. Right up my alley!   
I'm a seminary grad and minister, and have spent a few years serving as a volunteer prison chaplain. My present goal is to finish CPE, get ordained with CPAI, and go on full-time somewhere as a prison chaplain.
I will be using the book in a short research paper I'll be writing for CPE on pursuing "truth" with inmates. Your book offers several nuggets on this topic. I believe our job as chaplains is to share the revelatory truth of God, Christ, and Scripture, but also, to encourage inmates to pursue a personal truth and revelation for their own lives. Not unlike all of us in our sinful nature, we tend to violate God, nature, others, ourselves, because we live in the lie that our actions have no consequences, etc. But also, the truth we want to encourage others to see is that God has not left us without hope and offers us a way to rise from the death of our selfish myopia and live a life of love for God and others.    
Anyway, thanks again for your book. It's been a true encouragement that I'm on the right vocational path.  I'm also a writer and you may enjoy my blog, "Life Is Relationship." I even wrote an article on Jean Valjean. Here's a link if you'd like to read it or check out some of my other writings:                    http://www.johnmichalak.com/2009/05/freedom-in-relationship/
                        Review #2
           Mennonite Weekly Review,
                December 5, 2011
        Finding grace in prison life By Marlin Jeschke
On my desk is Glimpses of Grace: Reflections of a Prison Chaplain by Donald Stoesz, published by Friesen Press, Victoria,  B.C., 2010, 184 pages, $26.
This book consists of 121 one-page essays reporting the author's experiences as a prison chaplain or presenting his reflections on a movie or book that provides us a window into the prison world.  A native of Manitoba, Stoesz graduated from Associated Mennonite Biblical Seminary in Elkhart, Indiana, earned a doctorate in theology at McGill University in Montréal and is now a minister in the Mennonite church. He is a career prison chaplain serving in the Federal Correctional Institution near Bowden, Alberta.
The vignettes kept me turning the pages. Each is a self-contained insight into prisoners' lives and the prison environment:
The dilemmas of a chaplain in dealing with the devious intentions of inmates.

The complexity of dealing with prison rules on security, which the chaplain may occasionally need to defend, as when relatives or visiting friends try to smuggle in drugs;

The psychological effect of prison upon inmates, making it hard for them to cope when they are released;

Juggling the balance between "grace" and "law" with people who need grace but too often decline it, necessitating law;

The problem of relating chaplaincy to normal or normative church life — for example, whether to baptize inmates professing conversion, or to respond to their request for marriage;

The value of well-meaning volunteers who sometimes are naïve about the prison world
Stoesz's snapshots of prison depict a world hidden to most of us. He exposes a picture of mentalities and psychological aberrations that all of us may be tempted by or are vulnerable to — a dark side of human nature that lurks in the bottom of the human soul. One example of Stoesz's many insightful essays describes the "dual personality" some offenders wear — in this case, a "wonderful parent during the day but molesting grandfather at night." Persons wearing such a dual personality "gain a sense of power in hiding behind these two aspects of their personalities." But an offender eventually "feels relief in coming clean about who he really is," perhaps after getting caught. There is a Bible verse at the bottom of each essay, and to me it did not always connect with the essay's subject matter. But the verses signal that the author invites us not just to skim through these glimpses of the prison world but to ponder how the message of salvation applies to it.  Many Christians, including Mennonites, claim the gospel can save the worst of sinners but somehow don't think of prisons in that context. As Stoesz says, "Most of society feels their job is done when the criminal has been caught, tried, convicted and sentenced. The climax of the story occurs on the six o'clock news when the murderer is sentenced to life imprisonment. Few people are interested in what occurs in the next 25 years of the person's life."   Here is a Mennonite minister bringing the Christian message into this prison world, and in this book tells us what that's like. Marlin Jeschke is professor emeritus of philosophy and religion at Goshen (Ind.) College
Review #3
Bowden Institution inspires prison chaplain By Peggy Freeman - Red Deer Advocate  Published: May 26, 2011
Donald Stoesz is a Mennonite Pastor and a prison chaplain in service at the Bowden Institution (Annex). His intention, in writing this book, was to share insights drawn from his experience, with other people working in the prison system. He has, in fact, written a book of interest to anyone who would like to know more about the nature of prisons and prisoners. Most of us have a flawed understanding of jails, drawn from movies not always noted for accuracy.
When the general public knows that a crime has been committed, it is glued to newspapers and radio until someone is arrested for the crime, and brought to court. Once the prisoner is behind bars, the populace will go on to the next hot story. There is more to know about the losses and heartache caused by broken families and bad choices, drug use and alcohol, and this author has brought them to our attention. He does not excuse the offences of the detainees, his job is to listen, share the personal journey of the prisoner and offer whatever spiritual guidance and grace will be accepted.
The book consists of 120 vignettes, each one-page long, and covering a wide range of interactions and situations. These are well written, and interesting with names and personalities changed for privacy sake. A pertinent Bible quotation ends each page. Stories and circumstances show that people we may think of only as "convicts," are real people. They are, of course, people with dreams and hopes. They don't want to be forgotten by family, and they love having visitors. They are men who wish their situation was different than it is. The reality and their responsibility in that reality is sometimes forgotten, or ignored. Some people, most often Christians, find a ministry in visiting offenders in prison. They receive training, and then take part in the community with worship and conversation. Romance has bloomed in prison, but sometimes creates problems.
Many religious groups are represented in the prison population. There are Christians, Muslims, Hindus, Jews, Native Spirituality and Wicca's. There has to be understanding by staff of differing beliefs and practices. We also read here about Disassociation and Segregation, better known as "the hole." Some prisoners find a measure of safety in such a place, the irony of a prison within a prison. Reverend Stoesz leads us quite gently to a better understanding, showing us that everyone he meets and counsels has his own story, his own excuses, and his own needs. Very often the circumstances of their life and upbringing have been appalling. Still their violence and bizarre behaviours demand incarceration. Very often the only thing the chaplain has to offer is sympathy, a listening ear and the love of God. Bowden Institution is "just down the road," how little we know about these "neighbours."
Review #4 "A Holistic Approach to Prison Ministry"   by Rev. John de Vries Jr.,   London, Ontario: September 2011
Glimpses of Grace is a treasury of 120 vignettes and stories about prison life and chaplaincy.  Chaplain Donald Stoesz' training at McGill gave him the courage to write this book.  His years of chaplaincy in Quebec and Alberta (Bowden Institution) provided a desire to help newer chaplains gain appreciation for the wide-ranging nature of prison ministry.  The eleven chapters of this well-crafted book include, in seven to twenty-one stories per chapter, chaplaincy ministry highlights from opportunities for pastoral care, to issue of authority, and restorative justice.
This small book is filled with real life stories woven into the pastoral reflections of a skilled chaplain with a pastor's heart.  The stories are experienced by the reader and the prison volunteer in the context of the realities of prison.  The ministry that led to Glimpses of Grace was informed by clinical knowledge, empowered by theological sensitivities, nurtured by collaboration with prison staff and volunteers, and enlarged by appreciation for ecumenism and interfaith dialogue.  Chaplaincy is an extension of the church's ministry to persons in prison.  The author is appreciative of the resources of other faith and benefits of interfaith dialogue.  Nevertheless, the author's ministry is rooted in his Christian beliefs and practices that foster respect and hope for all.
Of the many prison ministry books on the market today, this book will serve new chaplains the best.  Furthermore, this substance-filled 120 one-page life-expanding daily devotionals promises to enrich the life and spiritual formation of interested persons who are not chaplains.  A holistic approach to prison ministry calls for well-trained chaplains.  As an extension of the church and body of Christ, the chaplain works with prison staff and volunteers in the context of today's correctional realities.  In prison, where there is much brokenness, there is also joy and new life — glimpses of grace.  To new chaplains, or anyone who works in prison, visits prisoners, writes letters to prisoners, or it considering Christ's call to reach out to the prisoner, this is a must read.